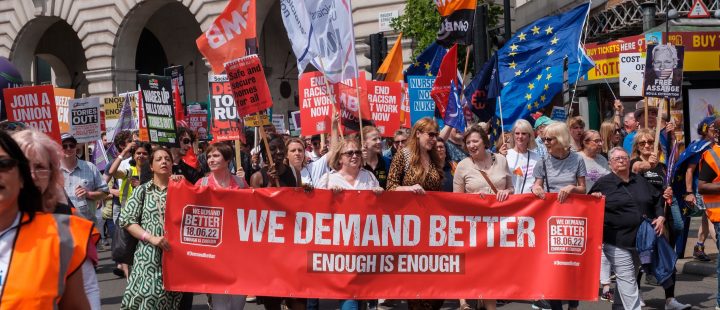 15 December 2022
We stand #WithNHSStaff taking action on pay and staffing
Today, nurses in the Royal College of Nursing walk out in their first ever nationwide strike. In the coming weeks, they will be followed by many other staff from a further five NHS unions who have voted for industrial action so far, including Unison, Unite, GMB, the Chartered Society of Physiotherapy and the Royal College of Midwives.
Patients are paying the price
Health workers are taking action as much for patients as for themselves. Everyone employed in the NHS right now, and everyone using its services, is acutely aware of the harm being done to patient care as a result of the staffing crisis. From cancelled operations to ambulance delays and ever-growing waiting lists, it is patients who are paying the price for underfunding and understaffing in the health service.
Ministers scrambling to give sound bites and demonise hard-working staff claim to be worried about patient safety – but refuse to get round the table and negotiate, despite unions' offer to pause strike action if they do.
Issue of pay won't go away
Until pay is on the table, and a fair deal is agreed, the issue won't go away. The pay award imposed this year is well below inflation, and well short of what is needed to help health workers through the current cost of living crisis. It is also well below the amount needed to stop people leaving and maintain safe and effective standards of care.
Those unions not challenging this year's outcome through industrial action will pursue a decent pay rise through next year's pay round. Those who are will take forward both formal strike action and action short of strike. This may include a 'rolling programme' of strikes at some NHS work places throughout the winter.
Solidarity with health workers withdrawing their labour
Health unions are encouraging their members, patients and the public to show solidarity for striking workers. From sharing support (and tea and biscuits) with those on the picket lines, to writing to your MP or talking to friends and family about why investment in pay and staffing is needed this winter, there are lots of ways you can show you stand #WithNHSStaff who are taking action.