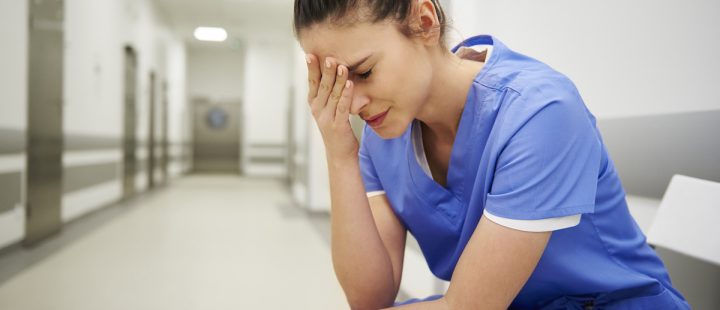 17 June 2022
Half of all NHS staff considering leaving their job
An exclusive poll run by the #WithNHSStaff campaign has revealed huge numbers of staff may quit, and widespread concerns about how staff shortages are already affecting patient care.
In the survey, more than half of respondents said they had considered leaving in the last 12 months, with one in five either actively looking or already leaving.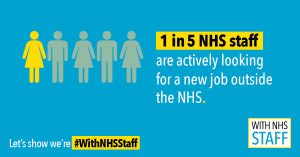 Concerns about patient care
The figures paint a worrying picture for a service that is already struggling to cope with staff shortages. Over 70% of staff taking part in the poll said they were extremely worried about the impact of staff shortages on patient care. Less than 1% weren't worried at all.
One worker commented, "everyone I work with is at breaking point." Another said, "I can't provide the care I want to give for patients". More than one said there was "no light at the end of the tunnel".
Struggling with living costs
Pay was the most commonly cited reason for leaving, with four out of five staff saying it was one of the main reasons they would quit the NHS. Rising living costs mean more are struggling with daily living costs.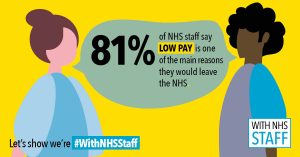 Melissa, a physiotherapist, says: "Despite working full time, I struggle to pay my bills and pay off debt. I can't plan for the future – a family or home – because my ability to save is affected by inflation and the lack of pay rise."
Skills that aren't valued
After pay, the feeling of not being valued was most likely to make staff consider leaving. Nearly two-thirds (64%) said they felt undervalued by the government or their employer.
For many, the skills and responsibilities they have aren't reflected in pay packets which compare poorly to other professions and private sector jobs.
People also commented that they felt abandoned after the Covid crisis. Luke, an outpatient booking coordinator said: "It feels like we are only appreciated when we are wanted. As soon as the Covid pandemic ended we are all forgotten about." Another worker said they felt 'enraged' by the situation.
Stretched beyond limits
Stress due to pressure of work and the ongoing impact of the pandemic was a factor for 63% of staff. Understaffing, stress and burnout, compounded by low wages, are leaving many feeling they'd be better off working anywhere else.
Sarah, a midwife, said: "We're stretched beyond our limits. I see colleagues crying and overwhelmed regularly. I work 12-hour-plus shifts with no break or food, and I'm working so many unpaid extra hours that my actual wage is probably below minimum wage."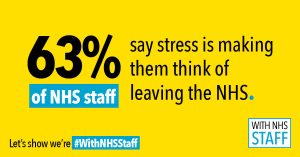 A pay boost will aid retention
Most, however, said that a boost in pay would make a difference. Nearly four out of five staff who were considering leaving (79%) said that an inflation-busting pay rise would persuade them to stay.
The results suggest a decent package could help significantly with staff retention. An uplift would not only help staff to cope with rising costs of living, but also signal appreciation for the skills and dedication of the health team, giving an important spur to morale.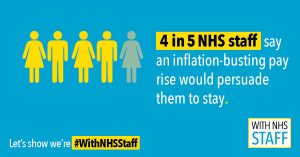 A total of 2239 staff completed the survey between 15 March – 18 April 2022.